<

>
Community asked to back motor neurone awareness event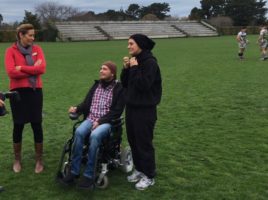 "Pack the park" is the call from motor neurone (MND) sufferer Nathan McNabb, the Hawke's Bay Magpies and community leaders.
Nathan McNabb, who has had the debilitating disease MND for four years, has set a target of over 1000 walkers for the annual Walk 2 d'feet for MND which will be held at the Regional Sports Park in Hastings on September 25.
"I want the Hawke's Bay walk to be the largest in New Zealand. I've been fighting the disease for four years and this awareness gives me inspiration to continue the fight," Nathan said.
The Jarrod Cunningham Youth Sport Trust has quickly got behind the event. Trust co-chairman Damon Harvey said it was important to support the likes of Nathan and others in the community that have been impacted by this devastating illness.
"Jarrod, a legend of Hawke's Bay rugby, fought a long battle with MND. He was adamant that he could beat it and that someday there would be a cure. Unfortunately, he didn't live to realise that dream but he would be proud of the determination of the likes of Nathan," Mr Harvey said.
The region's mayors are also backing the event, as are the Hawke's Bay Magpies.
Magpie first five Ihaia West says the disease struck one of its own in Jarrod, so the Magpies support of the event goes a little way to getting behind Nathan and others with MND.
"Jarrod was taken too young from MND and had so much still to offer rugby in the region. We can't wait to walk 1 kilometre with as many people as possible to raise awareness for MND.
Jodi Edwards, Event organiser and cousin of Nathan, has put the call out for sponsors and entrants for the walk, so that Nathan's dream becomes reality.
Local businesses are invited to make a donation and they will be supported at the walk with free advertising.
All schools are invited to hold MND mufti days and we encourage all sports clubs to attend and promote their clubs.
"We are hoping that people living in Hawke's Bay with MND make contact so we can offer support with the donations made," Ms Edwards said.
The day will be fun-filled with locals able to meet the Magpies along with food stalls and activities for children.
Entrants are asked to wear blue for the walk and to make MND signs or posters to carry on the walk and best dressed will win a spot prize.
"We have some costs to run the event, which we hope to get covered by sponsors and donations from local businesses, schools, and clubs. It's our goal to make a good sized donation to the Motor Neurone Association as well has provide financial support to local families that are impacted by MND.
"Let's pack the park" and make Hawkes Bay the biggest recorded MND walk in New Zealand.
The event is supported by Motor Neurone Disease NZ Association, Nga Tukemata O Kahungunu Disability Trust on behalf of our family member Nathan McNabb living with Motor Neurone, Jarrod Cunningham Youth Sport Trust and Malcolm & Sue Steward Rally Car from Dannevirke.
Event information
Date:              25 September 2016
Venue:          Hawke's Bay Regional Sports Park, Percival Road, Tomoana, Hastings
Time:              11am Walk Registration
Cost:               $10 per person
$20 per group of two adults and unlimited children
Children under 14 free
Walk time:    1pm walk 1km
Free Entry to the park, All ages welcome
Wheel Chair Accessible
To register online: http://walk2dfeetmnd.co.nz or on the day
Event Organiser: Jodi Edwards
Email: HBmndwalk2016@gmail.com