<

>
The Hastings Health Centre Signing White Ribbon Pledge
The Hastings Health Centre team of family doctors, nurses and health professionals pledged today to stand up, speak out an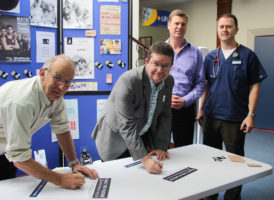 d act to prevent men's violence towards women, as part of the White Ribbon 2017 campaign.
Their commitment also marks Hastings Health Centre's significant work leading New Zealand primary health care on screening for family violence over the past eight years.
Hastings Health Centre chief executive Andrew Lesperance said the region has one of the worse rates of family violence in the country, but together we are doing everything we can to reduce it.
"As Hastings largest provider of family health care our team plays an important part in the local community. It's very important we continue to raise awareness so more people know this is a safe place to talk and get help and professional support for those living with family violence.
The Hastings Health Centre clinical team screens about 1200 times a year asking women routinely about family violence. About 120 women report they have experienced some form of abuse in the past, and about 60 disclose that they are currently victims of domestic violence and have been provided with the appropriate support.
Hastings Health Centre also works closely with Women's Refuge which can support women within their relationships as well as providing a safe haven if they need to exit their relationship.
HHC was the first primary health care provider in New Zealand to develop and commit to a family violence screening policy back in 2009, which has since been jointly promoted with the district's primary health organisation Health Hawke's Bay across the region.
Mr Lesperance said it is is compulsory for all staff at the Hastings Health Centre to undertake training to ask the right questions so they can help recognise and respond to those patients who are victims of family violence and refer them for the support they need.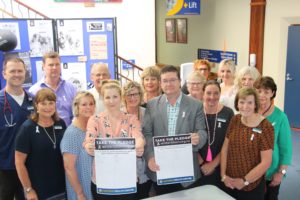 "In collaboration with Health Hawkes Bay, we also provide free training to other family practices and health service providers who have regular contact with women. Together, we want to continue playing a very important role in bringing family violence out of the shadows."
Categories