<

>
Industry Lead to Identify Fertiliser Efficiency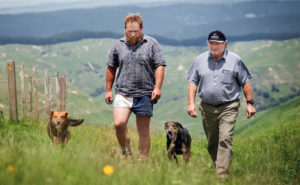 Fertiliser Company Hatuma Dicalcic Phosphate has taken an industry lead to identify fertiliser efficiencies for farmers.
The company has invested over $1 million in research and is monitoring 12 sheep and beef farms totalling 16,500 hectares in the independent 'Farming for the Future' programme.
The programme set out to find how a lower nutrient input system can build both economic and environmental resilience within the farm gate.
Since 2009, soil scientist, Jayson Benge from The AgriBusiness Group, has been monitoring pasture and soil quality on the farms around the country that have been using Hatuma Dicalcic Phosphate.
"Farmers say each year that they have seen significant improvements in pasture quality. Our job has been to back up these observations with science and provide evidence that Hatuma Dicalcic Phosphate is improving outcomes on farms."
"We have found that farms which apply Hatuma Dicalcic Phosphate perform at a similar level to other farms that are using more nutrients. This is in terms of carrying capacity, meat production and financial bottom lines."
"There is also less environmental impact because lower rates of phosphorous are being applied."
"A big concern in the agriculture sector is nutrient loss. Nitrogen is a key issue but phosphorous is important too. The non-water soluble nature of Hatuma Dicalcic Phosphate means less leaching and run-off of phosphorus is expected"
"I think it's admirable that a fertiliser company has invested so much money into understanding its product and its impact. It is good to have the science to back up claims."
The programme has looked at various elements of Hatuma Dicalcic Phosphate and its effectiveness for farmers, focusing on production and financial outcomes, soil quality, environmental impacts and pasture benefits.
For Northern Hawke's Bay farmer, Ron Dawson it was a no brainer to be a part of the programme.
"There are a lot of different fertilisers on the market, so it can be very confusing for farmers. Fertiliser is the biggest expense on any farm, so it is good to have products validated through research. It's important for farmers to have the proof that it works."
"We started using Hatuma Dicalcic Phosphate 7 years ago and we came on board with their research 5 years ago. We see better pasture and palatability, more growth and production, but to have the science supporting what we are seeing in the paddocks gives us confidence in the product."
"The science shows that with lower nutrient inputs I can achieve better production and it's cheaper which means I can spend extra money on other farm developments," said Mr Dawson.
Farm consultant Dave Lucock, also with The AgriBusiness Group, has spent the past five years helping farmers implement farm environment schemes that meet council regulations.
"Farmers are becoming more conscious of the environment and are working to be more sustainable. Regulations around nutrient loss mitigation is very important, so it is significant for the science to prove products can be environmentally friendly and also drive production."
Hatuma Dicalcic Phosphate Director, Aaron Topp, says the outstanding results achieved by farmers have supported Hatuma products for decades but it is important to invest in the science.
"Research is a huge investment, but we value our relationships with our farmers and we believe this is an investment in them and the future of agriculture in New Zealand."
"It's important that farmers have confidence in our products and can be assured the proof is in the science. We believe the Farming for the Future programme is validating what we and our customers have known for over 50 years."
For more information please contact Catherine Wedd, 0212886770