<

>
Laminate like you have never seen it, coming to New Zealand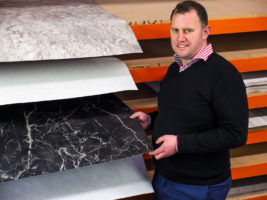 Those cringing moments thinking about old laminate bench tops are history says New Zealand's largest supplier of sinks Heritage Hardware.
Digital technology is creating new laminates for bench tops that are changing kitchen trends and improving perception of the product.
Heritage Hardware has gained exclusive rights to distribute world-leading Arborite® laminates in New Zealand, bringing fresh competition and greater choice for kitchen bench tops to the market.
Heritage Hardware Sales Consultant Dion Fyfe said new technology means New Zealand customers can now get the look of stone bench tops for half the price.
"We can provide durable laminate that has never looked so real. High definition imaging is closing the gap on stone and wood surfaces," Mr Fyfe said.
"Photos are taken of stone slabs and a direct copy is made so you get the same appearance."
Perceptions of the product are changing too as more people choose attractive, affordable laminates over traditional bench tops.
"We have come a long way from plastic-looking laminates of the 1970s, Arborite® now has more than 200 colours and patterns with the added benefit of scratch and stain resistance."
Montreal based Arborite® specialises in premium high-pressure laminates in a variety of textures and on-trend decors.
The product gives designers, architects, and specifiers more option for projects both big and small.
"It's easy to install and affordable, we saw a huge gap in the market where laminate has not had much competition – that's all set to change with Arborite®."
Arborite® Vice President of Marketing and Sales Mike De Rita said the decision to partner with Heritage Hardware was simple.
"We share the same core values of building new markets with innovative high-quality products, supported by people who care, offering service our customers can count on."
ENDS
Further information
Heritage Hardware sells more than 25,000 sinks per year in New Zealand.
The company was established in 1986 and is still family owned and operated, from its head office in Hastings, Hawke's Bay.
Stockists of high quality sinks, tapware, handles, Eurostone and Arborite® laminate surfaces.