<

>
A 70-year love affair with Rush Munro's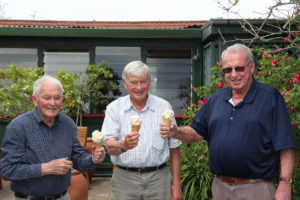 Three friends who enjoyed Rush Munro's ice cream together at primary school, still make weekly trips to the Garden Parlour, more than 70 years on.
Not much has changed in that time, except they've switched bikes for family vehicles.
At 75, Lloyd Singleton is the youngest of the group – he and friends David Keys, 78, and Paul Jones, 79, have been mates their whole lives.
Through primary, high school and their working years a Rush Munro's ice cream cone has been a well deserved "treat" – one they have enjoyed more in retirement than ever before.
Each Tuesday afternoon at the same time, whether summer or winter, you will find them around a table in the garden – shooting the breeze, with ice cream cones in hand. 
"We come so often now we only have to ask for 'the regular' and the girls know our order," said Mr Singleton, who rarely strays from his favourite Rum and Raisin.
"David's a strawberry man and Paul hasn't changed from Hokey Pokey since he was seven years old – the flavours taste the same as they always did."
The friends played cricket together, and later golf, but eating ice cream is one pastime that's endured throughout the years.
A trip to Rush Munro's Garden Parlour held different memories as they aged, but the surrounds and the ice cream itself remain much the same.
"We have all been here with our children, and I bring my grand daughter comes to Rush Munro's every time she comes back to Hawke's Bay so there's quite a strong connection for us," said Mr Jones.
"Lots of great memories, it was a real treat when we were young, I would ride down with my parents, it really was something special and it still is."