<

>
New Zealand's Oldest Ice Cream Maker Turns 90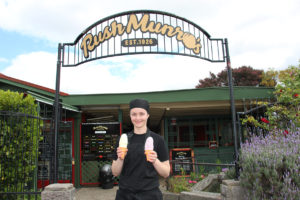 New Zealand's oldest ice cream maker and one of Hawke's Bays most iconic companies is celebrating 90 years in business.
 Rush Munro's Ice Cream's 90th birthday is next month and it has plenty of fun activities planned – including a week where 90+ year olds eat for free, 90 litres of ice cream will be given away and there will be 90 cent discounts on ice creams.
 Rush Munro's General Manager Tom O'Sullivan says the celebration is an exciting time in Rush Munro's history.
 "Most people who were raised and live in Hawke's Bay have fond memories of the iconic Rush Munro's Parlour with the fish ponds and gardens. We welcome people to share their stories and get excited about an ice cream that represents everything Hawke's Bay."
 The Rush Munro's story began in 1926, when English born founder, Frederick Charles Rush Munro set up shop, with his wife Catherine in Hastings.
The business has always been privately owned and had two other owners John Caulton and Alastair McSporran before local grower and exporter John Bostock bought Rush Munro's in 2001. 
Over the last decade John Bostock has helped successfully spread Rush Munro's ice cream throughout the country into supermarkets, cafes, restaurants and ice cream parlours and has played a big role in growing the iconic Rush Munro's brand.
"We are very proud of Rush Munro's history. The ice cream represents Hawke's Bay with many of the ingredients being fresh produce from local suppliers. It is 100 percent natural and we still use the same recipes that were crafted by Charles Rush Munro 90 years ago," said Mr Bostock.
 Mr Bostock says the strawberries come from the Strawberry Patch, the chocolate is made by Silky Oak, the coffee is Bay Espresso and the manuka honey comes from Arataki Honey.
"We ensure that we use local suppliers where we can. The heritage is important to the Rush Munro's brand and we are proud to only use real fruit and natural ingredients." 
Rush Munro's Factory Manager, Graham Copp has been making the Rush Munro's ice cream for the past 13 years and says the recipes are fundamentally the same, just tweaked slightly.
 "There are just six ingredients in Rush Munro's Ice Cream including milk, cream, sugar, egg yolk, gelatin and whatever the natural flavour is whether it be strawberries, chocolate or Feijoa," Mr Copp said.
 A unique point of difference for Rush Munro's is that the ice cream is still batch churned and has been for the past 90 years.
 "The batch churning means we can only make one batch at a time, so it takes longer. We also do everything by hand without a lot of machinery. So we physically pour all the ingredients into the ice cream. For example we peel the bananas, pulp fruit and make all our own syrups. There is certainly a lot of love that goes into Rush Munro's," Mr Copp said.
 There are currently 27 Rush Munro's flavours, but it's the trusty traditionals, which are still the big sellers.
 "Vanilla Bean is the most popular, then Maple and Walnut, Passionfruit, Hokey Pokey and Feijoa."
 As part of the 90 year celebrations, Rush Munro's is running a competition where Hawke's Bay residents can create their 90 Year Birthday Flavour. 
 A party is planned for November 19th where the limited edition new flavour will be on sale and there will be many celebrations planned at the iconic garden parlour on Heretaunga Street West.