<

>
New Zealand to produce largest ever Apple and Pear crop in 2017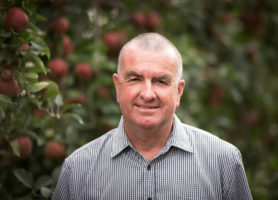 New Zealand's buoyant apple and pear industry is set to produce the country's largest ever crop, on the back of a successful plan for billion-dollar export growth.
Pipfruit New Zealand's chief executive Alan Pollard said crop estimates just completed show the 2017 forecast of 584,000 tonnes will eclipse the previous record of 560,000 tonnes held since 2004.

"The days of boom and bust cycles are over, year on year we prove that New Zealand is the best country in the world to grow and market apples," Mr Pollard said.
"This is a phenomenal time for New Zealand's apple and pear industry. 2017 is shaping up to be a season to celebrate and we continue to strive for even greater success."
"Hot days and cool nights have produced a very high quality crop for 2017, with outstanding colour and a size profile similar to last year's.
"New Zealand apples are fantastic in colour, texture, eating quality, and flavours and we are seeing growing demand from across the world," Mr Pollard said.
All of New Zealand's growing regions, including Nelson that was recovering from the impact of significant hail events last season, will experience increased production with new plantings coming on stream. 
The 2017 crop, produced from 9,500 hectares shows huge productivity gains compared to the previous record season in 2004 grown on 13,500 hectares.
"In 2004, 84% of apples went to North America and the European Union and only 13% to Asia and the Middle East.  Today that ratio is approaching 50/50.
"The growth is as expected and is consistent with the industry long term strategy. New Zealand is ranked the most competitive apple exporter in the world and the real growth is coming now from our breeding programme in licensed varieties that are supplying the world's top retailers which have the most discerning customers. 
"Our world leading growing systems which produce apples and pears with the lowest levels of residues of any other exporting country gives New Zealand priority market access, and New Zealand developed world leading post-harvest technology ensures only the highest quality fruit enters the market.
"It's more great news for provincial New Zealand, leading to increased employment opportunities with more skilled labour demand in Gisborne, Waikato, Hawkes Bay, Wairarapa, Nelson, South Canterbury and Central Otago.
"Industry support services and businesses will also see the benefits from this growth, with millions of export returns injected back into the local economies. 
In 2012 New Zealand Apples and Pears set a goal of becoming a billion-dollar export sector by 2022.
It is the first of the larger primary sectors to achieve the Government's export double goal, increasing from $341m in exports in 2012 to approximately $720m last year.
The industry expects to achieve its billion-dollar export target much earlier than forecast, and is already looking towards setting a $2 billion goal.