<

>
Stellar New Zealand season growing best apples in the world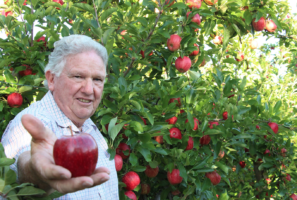 New Zealand's stellar growing season is producing the best apples in the world.
New Zealand's stellar season is proving why New Zealand is the best place in the world to grow apples.
Harvesting the 2017 record apple crop is in full swing with orchards across New Zealand's apple growing regions a picture of red and green apple trees laden with fruit boasting in size, crispness, quality and flavour.
Pipfruit New Zealand's chief executive Alan Pollard said it's been an excellent growing season producing fruit of intense colour and sweetness.
"When you bite into a New Zealand apple this season you will quickly know why we are the best place in the world to grow apples – for both our international customers and back home.
"Mother Nature has given us pitch perfect conditions. With recent rain followed by a combination of lots of sunshine hours and cooler mornings set in our oceanic climate, the apples are radiating in colour and are eating superbly," Mr Pollard said.
Yummy Fruit Company chairman John Paynter, who grows over a million cartons of apples with 70% for the New Zealand market, says it's been a record week for supermarket sales throughout the country.
"This is a very unique season. I've never seen one quite like it. While we growers often stand on the upside of optimism, fruit is eating exceptionally well and looking outstanding on the shelves."
General Manager T&G Pipfruit New Zealand Bruce Beaton said he'd been on the ground this week, with international colleagues eating apples straight from the tree.
"Everyone is loving our New Zealand apples; the world wants more of them and we have a wide range of varieties to meet different customer demands. It's an exciting time, you can feel the positivity out in the orchard with the fruit looking and tasting so good."
Mr Pollard said across all growing regions, the 2017 season is surpassing all others.  It's a tribute to the hard work and commitment of our growers, supported by investment in science, research and innovation, and underpinned by a strategy to deliver $1 billion in export returns by 2022.
"Everything is coming together. We are experiencing back to back record crops in both value and volume," he said.