<

>
Lawyers Digitalise the Legal Landscape in Hawke's Bay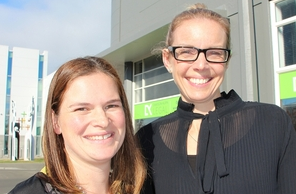 Two Hawke's Bay lawyers are digitalising the legal landscape in Hawke's Bay using regional  first technologies and fresh thinking to attract business. 
This week, lawyers Emma Dawson and Kirsty Kupa opened their new law firm, DK Legal, in the Hastings CBD. It is the first Hawke's Bay law firm to have legal software which is specifically designed for the legal profession and built in New Zealand.
The software enables them to have all the information they need at their fingertips which can be accessed very quickly.
The pair says they are are prepared to turn heads, by going against the grain of the more traditional law firms.
Mrs Dawson, who was a partner at Bramwell Grossman for nine years, said she had become increasingly frustrated with the traditional legal approach.
"The traditional methods just don't cut it anymore. Times have changed with technology and we no longer need to work with archaic filing systems, fax machines and an answer phone that comes on at 5pm. Clients are wanting efficiency, innvoation and immediate communication around the clock," said Mrs Dawson.
"We now live in a world where technology is at our finger tips and our clients are demanding more. We can access information at the touch of a button and be available to clients when they need us, not just during business hours. We need to move with the times."
Mrs Dawson said they wanted to offer more technology and efficiency, which was the main reason for opening a new firm.
"Hastings has an aging legal community, so we are offering younger innovative thinking and a fresh legal outlook for Hawke's Bay."  
The DK Legal team have also been quick to launch a new website and facebook page, which already has a strong following.
"There aren't many Hawke's Bay law firms which have facebook pages, but we've been amazed at how much new business we're generating from our social media communication. It is so important that we have full digital capability, so we can service our clients properly."
Businesses and families have placed their trust in Emma and Kirsty for over 25 years as they both have the ability to look beyond the legal jargon and make the issues easier to understand.
 "It's this point of difference that influences everything we do," said Mrs Dawson.
Emma grew up in Dannevirke and spent time managing a dairy farm before venturing into law. This local and rural connection has given Emma a strong client base across Hawke's Bay. Kirsty also comes from a farming community, growing up in New Plymouth and spent most of her legal career working in Palmerston North and spent time in the UK in some of the world's largest law firms. She met Emma working at Bramwell Grossman in Hastings.
"Unlike a traditional law firm we sit beside our clients and not across the table from them. We visit them in our gumboots and value our personal relationships with our clients," said Mrs Kupa.
"We know that to get ahead and provide the best service for our clients, we need to move with the times and embrace the technological advancements in our industry.  Technology allows us to complete deals with our clients in Singapore, the UK, America and Australia as well as our valued clients locally and nationwide. Anything is now possible."