<

>
Strong sales of high performance Mānuka seedlings expected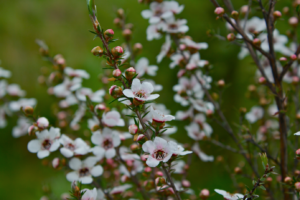 High performance mānuka seedlings are in high demand with close to two million seedlings expected to be sold for planting in 2018.
Mānuka Farming NZ has increased production of its high performance mānuka seedlings by over 500 percent in just three years. In the 2015 all 305,000 seedlings were sold for planting in winter 2016; one million seedlings in 2016 to be planted this winter and two million this year.
"It's not a seedling sale at any cost," says Stephen Lee, Commercial Manager for Manuka Farming New Zealand, "it's about the right seedling for the site that will bring the landowner a good return."
Mānuka Farming NZ is the commercial arm of Mānuka Research Partnership (NZ) Limited (MRPL), a company formed in 2011 that has a strong shareholding representing primary sector and apiary interests including Arborex Industries Limited, Comvita NZ Limited, DC and CY Tweeddale Partnership, Hawke's Bay Regional Council, Landcorp Farming Limited, Nukuhau Carbon Limited and Te Tumu Paeroa.
MRPL has co-invested with the Ministry for Primary Industries (MPI) in the High Performance Mānuka Plantations Primary Growth Partnership (PGP) programme. The programme commenced in 2011 and is scheduled for completion in late 2018.
The programme has its sights set on moving the industry from wild harvest to science-based farming of mānuka plantations, to increase the yield and reliability of supply of medical-grade mānuka honey, and contribute to what could be a $1.2 billion per annum mānuka honey industry by 2028.
Mānuka Farming NZ is interested in property owners with more than 20ha of land, as well as hill country landowners, who could use mānuka to protect erosion prone land.
"Of our seedlings, we have narrowed the varieties down to four, suited to specific growing regions and climates," says Mr Lee.
"However, we will also be offering eco-sourcing as an option for landowners.  This is where we come in and test the mānuka that is already growing on the landowners' property with a view towards collecting seeds from those trees so that more can be planted on the property."
Mr Lee reminds landowners that orders for high performance Mānuka seedlings close at the end of October with delivery between May and September 2018.  Some landowners may qualify for funding support via the Ministry for Primary Industries' Afforestation Grant Scheme (AGS) for which applications are open from March 13 to April 28.  AGS provides funding of $1300 per hectare for growers to plant new small to medium-sized forests (five hectares to 300 hectares). Further information on the AGS scheme including funding application can be found on https://www.mpi.govt.nz/funding-and-programmes/forestry/afforestation-grant-scheme/.
"Planting the highest performing mānuka seedlings is just one of the many ingredients that goes into maximising the prospects of success. A mānuka plantation is not profitable until honey is actually extracted down the track," he says.
"We've developed a guidance tool called 'Our Six Steps to Mānuka Plantation Success', to help landowners plant Mānuka for honey. Manuka Farming NZ supports landowners from the start of their journey which, for most, includes an initial assessment of mānuka plantation viability, to the end, when they start to generate money from their honey," says Mr Lee.
"We are in this for the long haul.  With ongoing science,  landowners can be assured that they will always have the latest and best knowledge, tools, and services when they work with us."
Mānuka Farming NZ will hold a series of free mini-seminars at its stand at the Central Districts Field Days in Feilding from March 16 – 18.
The seminars will cover the Six Step Process, Plantation Planning, Apiary Planning, and other topics of interest to prospective mānuka landowners.  If interested, registrations for these seminars can be made on the company's website www.manukafarmingnz.co.nz